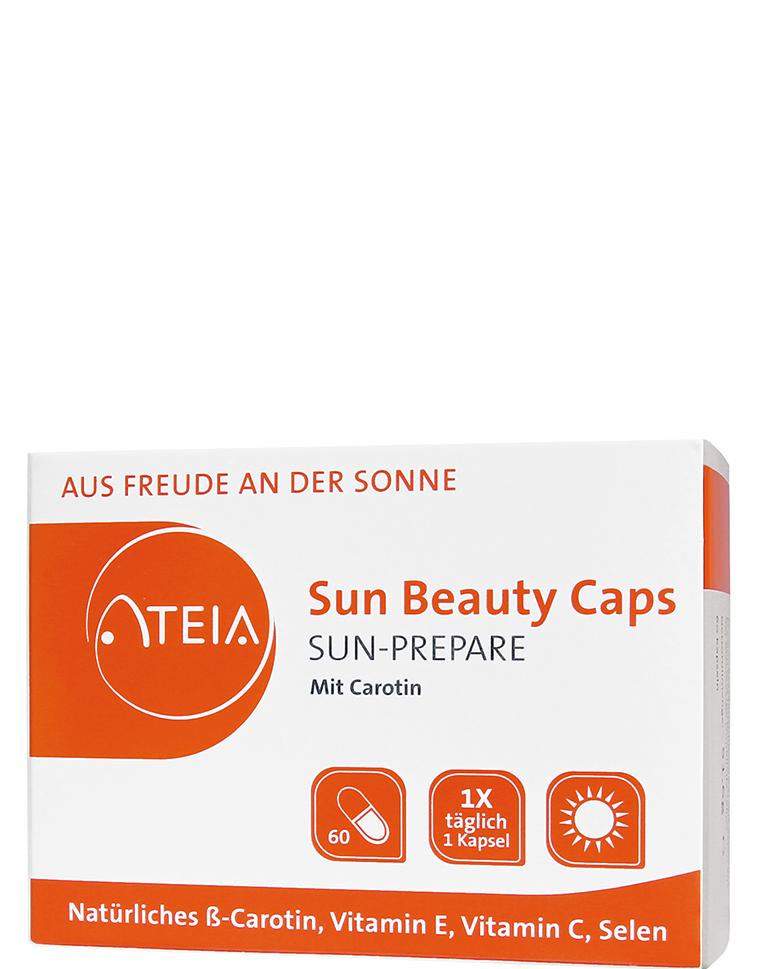 ATEIA® SUN BEAUTY CAPS with carotene
Dietary supplement, 60 pcs.
Additional product without Nopasome®
0 ml
Properties
The addition to sun protection from the outside, for a beautifully tanned summer complexion and for anti-aging support of the skin.
ATEIA® Sun Beauty Caps with carotene are not a substitute for applying an ATEIA® sunscreen because the capsules alone do not provide UV protection.
As a nutritional "beauty supplement" with anti-aging benefits, a vitamin complex with carotene can:
increase the tolerance of sun-exposed skin to solar radiation
support the tan and keep it longer
as well as being helpful in the defense against free radicals and oxidative stress. Because the contained antioxidants vitamin C and E, as well as selenium help to protect the skin cells from oxidative stress.
Application
Take 1 capsule once a day with sufficient liquid. The ATEIA® Sun Beauty Caps can be taken all year round for a natural, healthy glowing effect on the skin. The specified recommended daily dose must not be exceeded.
Ingredients
+
Vegetable oils (soy, refined; coconut; olive), gelatin, sugar, humectant: glycerol, L-ascorbic acid, milk fat, D-alpha, tocopherol, natural carotenoids (from Dunaliella salina), acerola fruit powder, sodium selenite, maltodextrin, emulsifier: soy lecithin, aroma.